The Definitive Guide To Pinterest Marketing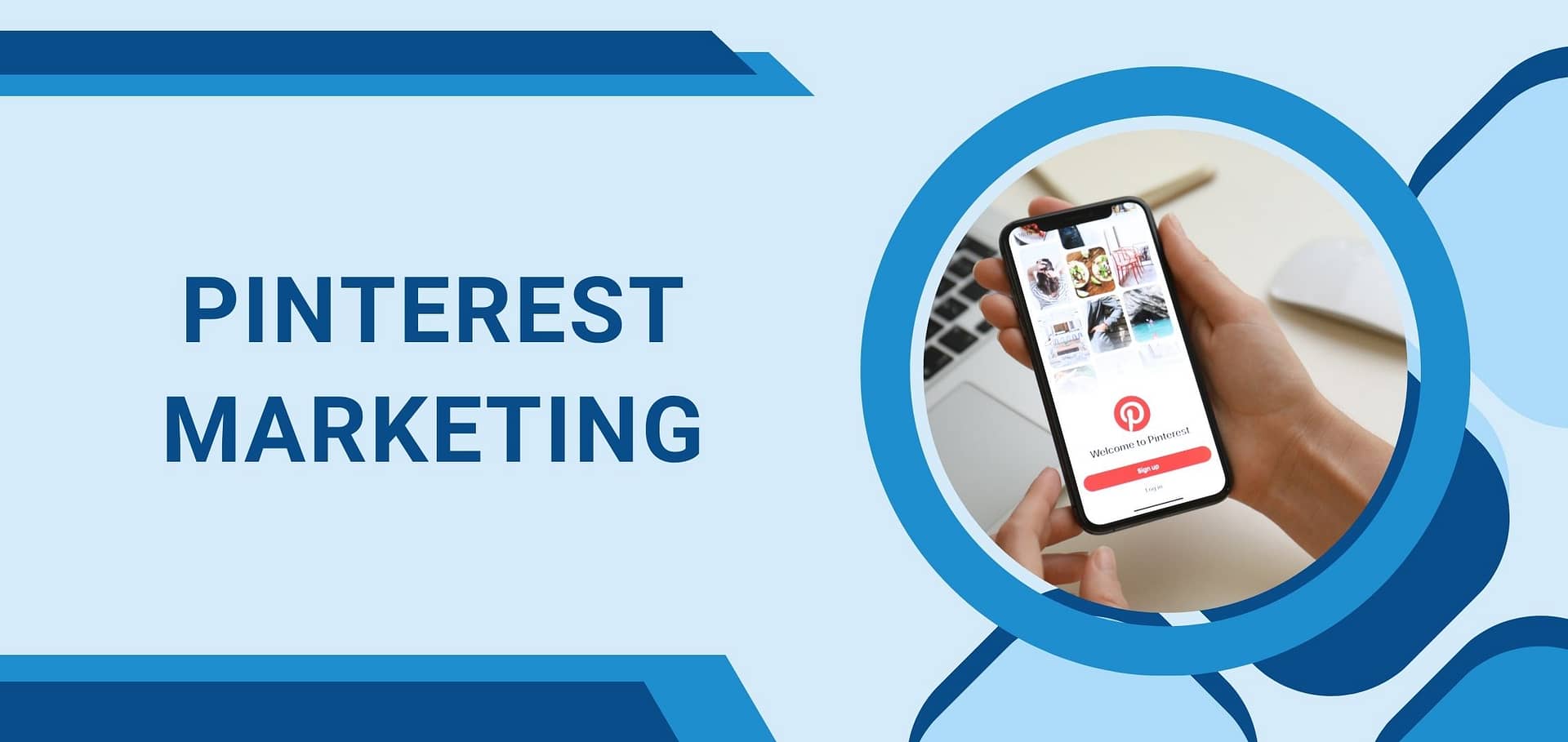 Welcome to DigiPix Inc, your trusted partner in Pinterest marketing! With our expertise in internet marketing and a keen focus on Pinterest. We are here to help your business make the most of this visual discovery platform.
From driving traffic to your website to increasing brand awareness. Pinterest offers immense potential for businesses of all sizes. Let us explore how you can harness the power of Pinterest and how DigiPix Inc. can assist you in achieving your marketing goals.
What is Pinterest Marketing?
Pinterest marketing involves using the social media platform, Pinterest. It is used to reach your target audience, boost your brand visibility, and increase sales. Pinterest is a unique platform. It is where users discover, collect, and share visual inspirations and ideas on 'boards.'
This platform is particularly useful for businesses that have a visual aspect to their products or services. Businesses use Pinterest to post (or "pin") images and videos. These are related to their products or services. These pins can be organized into themed boards.
For example, a fashion retailer might have separate boards for different clothing types. Or seasons. Pins can include links back to your website. As well as driving traffic and leading to increased sales.
Pinterest marketing can also involve using Pinterest's paid advertising options. These are known as "Promoted Pins." These allow businesses to reach a wider audience beyond just their followers.
The ultimate aim of Pinterest marketing, as with other forms of digital marketing, is to attract and engage an audience. As well as build brand awareness and drive traffic to your website. Also, convert this traffic into customers.
To be successful, it is important to regularly post. These should be high-quality. As well as visually appealing so that it is valuable to your target audience.
How to Use Pinterest for Business?
Pinterest is not just a platform for personal inspiration and creativity. It is also a valuable tool for businesses to connect with their target audience. As well as to drive conversions.
Here are some essential steps to get started with using Pinterest for business:
Create a Business Account: Set up a Pinterest business account. Or convert your existing personal account into a business account.
This will unlock valuable features. Such as Pinterest Analytics, Rich Pins, and the ability to run ads.
Optimize Your Profile: Craft a compelling profile bio. Do not forget to add relevant keywords. Also ensure that your profile accurately represents your brand's identity.
Include your website URL and social media links to encourage cross-platform engagement.
Pin Engaging Content: Create visually appealing pins that resonate with your target audience. Focus on high-quality images, compelling descriptions, and include relevant keywords to improve discoverability.
Organize Boards: Create boards that align with your business's niche or industry. Curate content that is valuable, educational, and inspiring for your audience. Use relevant keywords in board titles and descriptions.
Leverage Keywords: Conduct keyword research to understand the search terms. Your target audience is using Pinterest. Incorporate these keywords strategically in your pin descriptions. As well as board titles, and profiles to improve visibility.
Engage with the Pinterest Community: Engage with other Pinterest users. This is done by repinning, commenting, and following relevant boards and accounts.
Building relationships with influencers and engaging with your audience will help in expanding your reach.
Use Rich Pins: Enable Rich Pins to provide additional information. As well as context for your content. Rich Pins automatically update whenever you make changes to your website. Thus, ensuring that your pins stay relevant.
Track Analytics: Utilize Pinterest Analytics to gain insights into your audience. The performance of your pins, and the effectiveness of your overall Pinterest marketing strategy. Adjust your approach based on the data to optimize results.
Remember, consistency and creativity are key to succeeding on Pinterest. Regularly pin fresh content, monitor trends, and adapt your strategy based on your audience's preferences and behavior.
Pinterest Marketing Agency
If you find it overwhelming to navigate the intricacies of Pinterest marketing on your own, DigiPix Inc. is here to help. As a specialized Pinterest marketing agency. We have a team of experts who understand the platform's nuances.
Our team can create customized strategies tailored to your business objectives. Whether you need assistance with pin creation, optimizing your profile, or running Pinterest ads. We have the knowledge and experience to elevate your Pinterest marketing efforts.
Our company's services include:
Pinterest Account Setup and Optimization: We will set up or optimize your Pinterest business account. Thus, ensuring it aligns with your brand's identity and maximizes visibility.
Content Creation: Our team of skilled designers and copywriters will craft visually stunning and engaging pins that captivate your audience and drive traffic to your website.
Keyword Research: We will conduct comprehensive keyword research. This is to identify the most relevant and high-impact keywords for your business. This will improve the discoverability of your pins. It will also increase your chances of reaching the right audience.
Analytics and Reporting: We will track and analyze the performance of your Pinterest marketing campaigns. Thus, providing you with regular reports and insights. This is to measure success and make data-driven decisions.
Pinterest Advertising: If you are looking to take your Pinterest marketing to the next level. We can create and manage effective Pinterest ad campaigns. This is to drive even more targeted traffic and conversions.
At DigiPix Inc, we understand the importance of tailoring our services to meet your unique business needs. Whether you are a small startup or an established brand.
Our Pinterest marketing agency is dedicated to helping you. We will unlock the full potential of this platform and achieve remarkable results.
Pinterest Marketing Jobs
Are you passionate about Pinterest marketing? Join our dynamic team at DigiPix Inc.! As a rapidly growing Pinterest marketing agency. We are always on the lookout for talented individuals. Especially ones who share our enthusiasm for leveraging Pinterest to drive business success.
As a Pinterest marketing professional, your responsibilities may include:
Strategy Development: Collaborate with clients. This is to develop effective Pinterest marketing strategies. They should align with their business goals and target audience.
Content Creation: Design visually appealing pins and write engaging descriptions. They should capture the essence of clients' brands. As well as resonate with their target audience.
Account Management: Set up and optimize Pinterest business accounts. As well as create and curate boards. You need to ensure consistent engagement with the Pinterest community.
Analytics and Reporting: Monitor Pinterest analytics to track campaign performance. As well as identify trends, and provide actionable insights to clients.
Paid Advertising: Create and manage Pinterest ad campaigns. This includes campaign set-up, targeting, monitoring, and optimization.
If you have a passion for Pinterest marketing and are eager to work in a collaborative, fast-paced environment. We invite you to explore the exciting career opportunities at DigiPix Inc.
Visit our careers page to learn more about current openings and how to apply.
For more information on how DigiPix Inc. can assist you with Pinterest marketing integration or contact us directly. We look forward to partnering with you on your digital marketing journey.
Conclusive FAQs
How to do Pinterest affiliate marketing without a blog?
Affiliate marketing on Pinterest without a blog is possible. It can be quite effective. Here is a simple guide on how to do it:
Join Affiliate Programs: First, join affiliate programs. These should be relevant to your interests or expertise. You might choose to join programs from large affiliate networks. Or directly with companies who offer products or services that you love. As well as, want to recommend.
Create Pinterest Account: If you do not have one already. Create a Pinterest business account. A business account will give you access to important features. Such as analytics and the ability to run ads.
Design Pins: Create visually appealing pins related to your affiliate products. Use a graphic design tool to design attractive and eye-catching images. Make sure to use high-quality images. As well as engaging captions. And relevant keywords in your descriptions to improve visibility.
Add Affiliate Links: When you upload your pin, add your affiliate link to the 'website' field. This means that whenever someone clicks on your pin, they will be taken directly to the affiliate product.
Create Relevant Boards: Organize your pins into boards based on categories or themes. This is to help your followers find what they are looking for. Make sure to give your boards clear, descriptive names. You should also include relevant keywords in your board descriptions.
Follow Pinterest Guidelines: Pinterest allows affiliate marketing, but they have some rules. They do not allow spammy behavior. So, avoid excessive pinning of the same product. Also, make sure your pins provide value to your audience.
Promote Your Pins: You might choose to use Pinterest's paid promotion options. This is to reach a wider audience with your affiliate pins.
Remember to always disclose your affiliate relationships in compliance with FTC guidelines. This requires you to let people know that you will earn a commission if they purchase through your link. Be honest and transparent with your audience to build trust.
What are some Pinterest marketing tips?
If you are looking to market on Pinterest, here are some simple tips that might help:
Create a Business Account: This gives you access to Pinterest's analytics. As well as its advertising features.
Optimize Your Profile: Make sure your profile clearly communicates who you are. As well as what you do. Use keywords in your profile name and description to help people find you.
Use High-Quality Images: Pinterest is a visual platform. So, the quality of your images is crucial. Make sure they are high-resolution, well-lit, and appealing.
Use Keywords: This is like SEO for your website. You want to include relevant keywords in your pin titles. As well as descriptions to help people find your content.
Create Multiple Pins for the Same Link: This increases the chance that people will come across your content. Make sure to use different images and descriptions for each pin.
Use Rich Pins: Rich pins add extra details to your pins from your website. Such as product price, availability, and where to purchase. This can improve engagement and drive more traffic to your site.
Engage with Others: Just like any other social media platform, engagement is key. Follow other users, repin their content, comment on pins, and respond to comments on your own pins.
Use Pinterest Analytics: Monitor your performance. See what is working and what is not, and adjust your strategy accordingly.
Remember, Pinterest is all about discovery and inspiration. So, try to create content that is helpful and inspiring to your audience. It might take some time to see results. But with consistency and a strategic approach. Pinterest can be a powerful marketing tool.
What is Pinterest as a marketing tool?
Pinterest is a powerful marketing tool. Businesses can use it to promote their products or services. As well as drive traffic to their website, and increase brand awareness.
Unlike other social media platforms, Pinterest is more like a visual search engine. It is where users "pin" images and ideas they like onto their own digital boards.
As a marketing tool, Pinterest allows businesses to create a profile and post their own pins. These pins can include images, descriptions, and links back to the business's website.
They can be organized into different boards based on topics or themes. Thus, making it easy for users to discover and engage with a business's content. High-quality, appealing images are especially important on Pinterest. Users typically decide which pins to click on based on their visual appeal.
Moreover, Pinterest offers rich pins. These are pins that include extra information right on the pin itself. For example, product rich pins can include real-time pricing and stock availability.
Pinterest also offers a range of advertising options. Thus, allowing businesses to promote their pins to a larger or more targeted audience. These paid ads can help businesses reach more people. As well as drive more traffic to their website, and ultimately boost sales.
In addition, Pinterest provides businesses with valuable insights and analytics. Thus, making it easier to understand what content is resonating with users. As well as how the overall Pinterest marketing strategy is performing.
Overall, Pinterest is a unique and valuable tool for digital marketing. Especially for businesses with visually appealing products or those in creative industries.
What is Pinterest real estate marketing?
Pinterest real estate marketing involves using the social media platform Pinterest. It is used to promote and sell properties. It is a creative way for real estate agents to reach potential buyers and sellers.
On Pinterest, real estate professionals can create visually appealing "pins". These can be on their property listings. These include high-quality photos of the homes they are selling. As well as the interiors, the surrounding neighborhood, or any unique features.
These pins can then be organized into boards by categories. Such as location, property type, home style, or price range. This allows potential buyers to browse and save pins in a way that is helpful and engaging.
But it is not just about listing properties. Successful real estate marketers also use Pinterest to share tips for home buyers. As well as sellers, home decorating and renovation ideas. And also neighborhood guides, and other related content.
This positions them as a valuable resource. It can help attract and engage a broader audience.
Pinterest also offers advertising options. It allows real estate professionals to promote their pins and reach a wider audience. And since pins include a link back to the website, they can help drive traffic to the real estate agent's website. Thus, increasing the chances of potential leads and sales.
Finally, Pinterest's analytics can help real estate agents track their performance. As well as understand what content their audience engages with. And refine their strategy.
So, in simple terms, Pinterest real estate marketing is about more than selling properties. It is about building a brand and providing value. And most importantly, creating a community of potential buyers and sellers.
What are the benefits of Pinterest marketing?
Pinterest marketing has several benefits for businesses:
Attractive Pictures: Pinterest is all about eye-catching images. It is great for businesses with visually appealing products. You can show off your products in beautiful pictures to grab people's attention.
More People Discover Your Brand: By using Pinterest regularly, you can make more people aware of your brand. They will see your pins and learn about what you offer.
More People Visit Your Website: When people click on your pins, they can go directly to your website. This means more people will visit your site. Thus, have a chance to buy your products or learn more about your services.
Pins Last a Long Time: Unlike other social media posts that get buried quickly pins on Pinterest can be seen and saved by people for a long time. This means your content has a better chance of being seen by more people over time.
Helps with Google Searches: When you use relevant keywords in your pins. it can improve your chances of showing up in Google search results. This means more people can find your business online.
You Can Target Specific People: Pinterest offers advertising options. These let you reach the exact people you want. You can choose to show your pins to people. These are based on their interests, age, or other factors, so you reach the right audience.
Inspires People and Generates Ideas: Pinterest is a place where people go to find inspiration and ideas. By sharing creative and helpful content you can inspire people. You can also become a trusted resource for them.
Overall, Pinterest marketing helps businesses get more attention. As well as drive people to their website, and connect with an audience that loves beautiful and inspiring things.